Nuclear Safety in Canada
The Canadian nuclear industry protects people and the environment by placing safety above all other goals.
The Canadian Nuclear Safety Commission (CNSC), which regulates industry participants, vows that it will "never compromise safety." This means that safety trumps all other considerations, including production, schedule, and cost. The industry's track record is both impressive and thoroughly documented – but never taken for granted.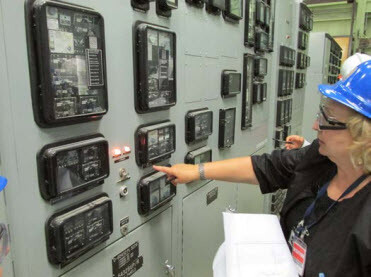 A CNSC inspector verifying a control panel. Source: CNSC.
The CNSC reports annually on the nuclear power industry's safety performance, as well as on the performance of the mines, mills and processing facilities that produce nuclear fuel. It also reports annually on the nuclear safety performance of the medical, industrial, commercial, and academic and research sectors.
The CNSC examines industry members' performance annually, using 14 broad tests of the areas of management, facilities and equipment, and core control processes. Each test grades the performance as "fully satisfactory," "satisfactory," "below expectations," or "unacceptable." On its website, the CNSC offers an interactive simulation of an inspection of a typical CANDU reactor.
Nuclear safety is a global issue: substandard safety regulations in one country could lead to accidents that affect others; also, countries that harness nuclear technologies can learn from the best practices of other leaders in the field. One of Canada's closest partners is the United States, where nuclear safety is guided by the US Nuclear Regulatory Commission. The CNSC also works closely with the International Atomic Energy Agency, a United Nations organization that seeks to promote the responsible use of nuclear energy for peaceful ends.
Likewise, the Canadian nuclear industry also has a global partner, the World Nuclear Association, which shares the industry's interest in promoting the safe use of nuclear technology internationally.
ARTICLE: Canadian Nuclear Association. 'Safety Regulations', Online Safety & Regulations Section.